A DAY IN THE LIFE OF A CAREGIVER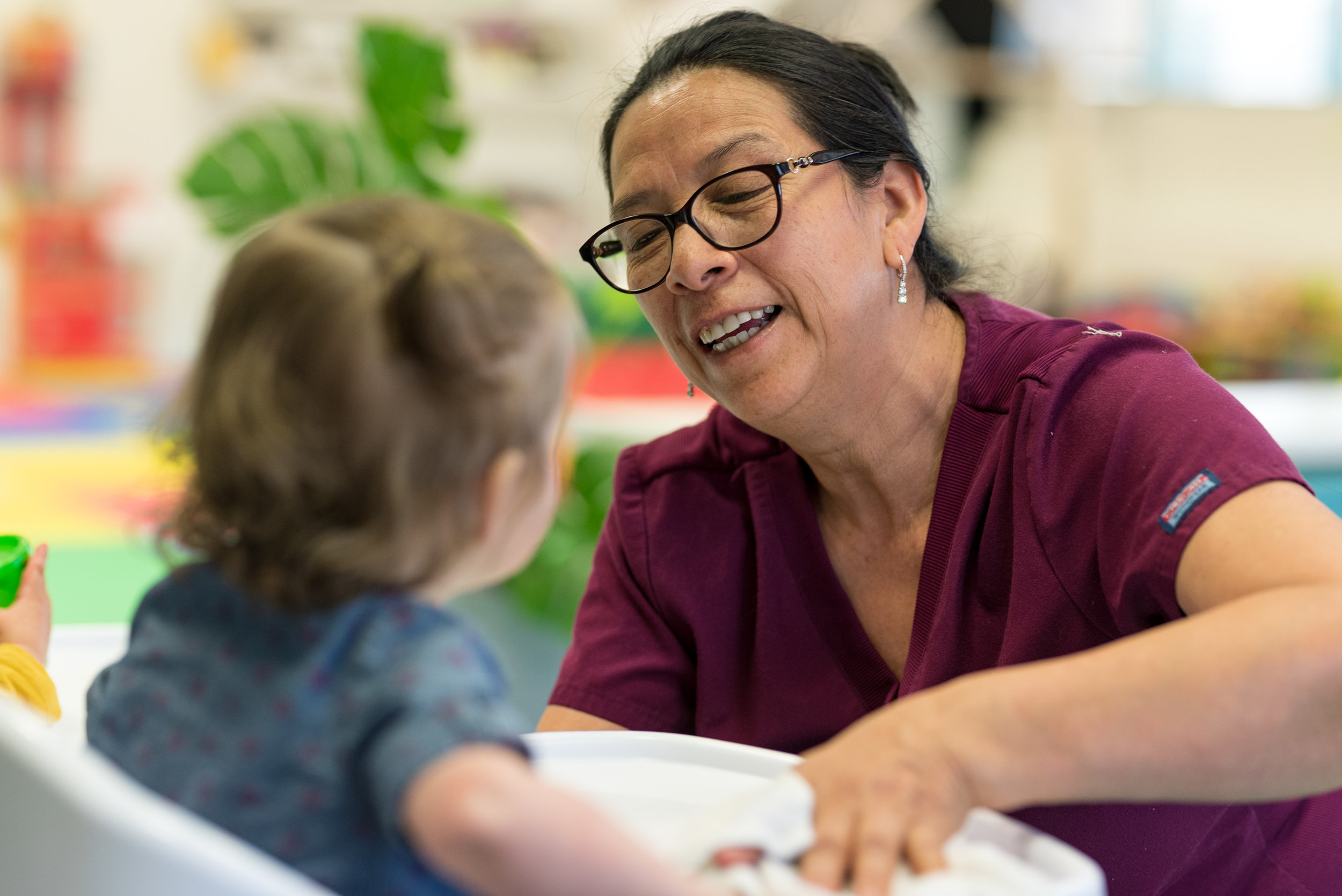 A DEVOTION TO CHILDREN
Ana Martinez, a widowed mother of eight children, has devoted her life to the well-being of not only her children but to hundreds of kids fortunate to be placed in her care.
Martinez, a level two childcare practitioner at Wee Wild One's Daycare, works in the Blossoms classroom where she enjoys working with toddlers. Her devotion to the children under her care has established a strong bond with them, long after they grow and move into the next level of their education.
Born in Guatemala City, Guatemala, in 1958, Martinez, alongside her mother, fled to Montréal in 1971, to escape that country's bloody civil war. After the sudden passing of her husband just months following the birth of their eighth child, Martinez relied on her Christian faith for support.
As her children grew, and began to live independently of one another, Martinez, made the decision to move to Alberta. She decided to leave Montréal and moved to Edmonton so she could be closer to her daughters. Martinez began her career in childcare 15 years ago and since settled in Calgary.
Today, Martinez continues to practice her faith every Sunday at Imagine Church on McLeod Trail in Calgary.
Ana Martinez, along with members of Imagine Church, join together in worship during Sunday service.
Ana Martinez arrives at the Downtown West Kirby platform via bus, and waits for the train during her daily commute to Wee Wild Ones Daycare.
With no driver's licence, Ana Martinez rides the train during her daily commute to her job as a level two child care practitioner at Wee Wild Ones Daycare.
While the children arrive at the daycare to begin their day, Ana Martinez greets them passionately to say good morning.
Throughout the day, Ana Martinez prepares the children's vegetarian meals which consist of fruit, vegetables and grains.
Ana Martinez prepares drinks to meet the specific needs of each child.
Ana Martinez sings her way down the line of children while gently cleaning the children's small faces with a warm cloth.
Ana Martinez interacts with the children during play time in the Blossoms class.
Ana Martinez enjoys an embrace from a small child during play time in the Blossoms class.
Ana Martinez photographs a toddler after completing an arts and crafts project in the Blossoms class.